Tag Archives:
self service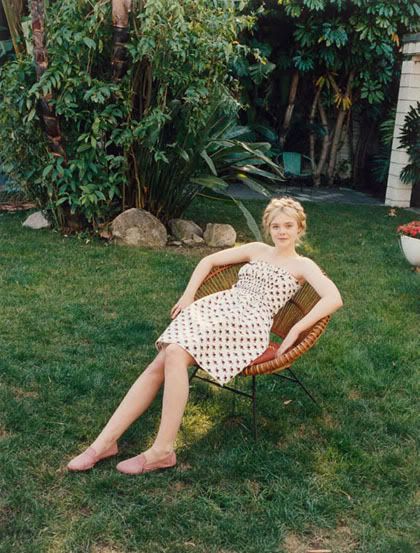 The nice Elle Fanning photographed by Venetia Scott in Self Service. I love the colours of Venetia's photos.
Images from
here
,
here
, and
here
+ Project


I'm in desperate need of a little Chanel 2.55 handbag. They are so cute and stylish and elegant…
I've been looking on ebay and the cheapest I've found so far is $970. (I must admit it looks kind of a fake).I was dreamy so I started to think: "Well, with the value of dollars and the change to euros it drops to 700€…" Yeah, like it made a big difference. So the next step was to look for fakes (hey, this is an emergency, ok? And it is not my fault, it's Karl's, the materials of a diminute handbag don't make $970). But the fakes were too expensive. Look and believe. Then I found on ebay a cheapest fake (29,99$, almost like a gift), but it was too faux.
What shall I do? Buy the cheap cheap one or wait to see if I can get the real one? (Wait for years).
I also could start this game, you know, when people begin with half lemon and trough trades they end getting a car.
I'll start with the Kirsten Dunst as Marie Antoinette Vogue US issue. Who wants to play? ;)
Necesito desesperadamente un Chanel 2.55
. Es tan mono y elegante y bonito…
Busqué en ebay y el más barato que he encontrado vale
970 dólares
(y debo admitir que tiene pinta de falso). En plan ensoñación empecé a pensar "bueno, con el cambio del dólar al euro, deben de ser unos 700 €…" Ya, como si hiciera alguna diferencia. Así que el siguiente paso era buscar en la sección de bolsos falsos (eh, es una emergencia, ¿vale?. No es mi culpa, es de Karl, los materiales de un diminuto bolso no valen 970$). Pero los falsos eran todavía algo caros.
Ve para creer
. Luego encontré en ebay uno aún más barato, por 29,99$, o sea, nada, pero es
demasiado falso
.

¿Qué debería hacer? ¿Comprar el barato barato o esperar a conseguir uno auténtico? (esperar años, vamos)
También podría empezar el jueguecito aquel que se empieza con medio limón y a través de muchos intercambios acabas con un coche.
Empiezo con el número de Vogue USA de Kirsten Dunst como Marie Antoinette. ¿Alguien se apunta? ;)